Desserts - to enjoy after any meal!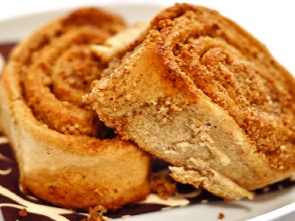 Maple Sugar Ragamuffins
Yield: Makes 12 servings
Active time: 25 min.
Total time: 1 hr

Ingredients:
For dough:

2 cups all-purpose flour
1 tablespoon Briggs Maples granulated maple sugar
1 tablespoon baking powder
1/2 teaspoon salt
5 tablespoons cold unsalted butter, cut into small pieces
3/4 cup of whole milk

For filling:

3/4 stick (6 tablespoons) unsalted butter, well softened
1 cup Briggs Maples granulated maple sugar (6 ounces)
Special equipment: parchment paper

Preperation
Make dough:

Put oven rack in middle position and preheat oven to 400°F.
Line a large (17-by 14 -inch) baking sheet with parchment paper.
Whisk together flour, maple sugar, baking powder, and salt in a large bowl.
Blend in butter with a pastry blender or your fingertips until most of mixture resembles coarse meal with some small (roughly pea-size) butter lumps.
Add milk and stir with a fork until a shaggy dough forms.
Gently knead dough 8 to 10 times with floured hands on a lightly floured surface.

Roll out and fill dough:
Roll out dough on a lightly floured surface with a floured rolling pin into a 13-by 11-inch rectangle.

Spread softened butter evenly over dough and sprinkle all over with maple sugar, pressing firmly to help adhere.

Beginning with one long side, roll up dough snugly, jelly-roll style.

Cut roll crosswise into 12 slices with a sharp knife.

Arrange slices, cut sides down, 2 inches apart on baking sheet.

Gather any maple sugar from work surface and sprinkle on top of rolls.

Bake until rolls are puffed and golden, 18 to 20 minutes.

Transfer to a rack to cool until warm, about 15 minutes.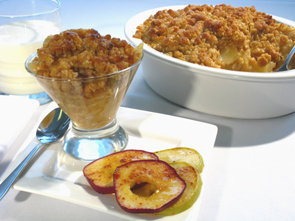 Maple Apple Crisp

5 medium apples, peeled & sliced (5)
1/2 tsp. cinnamon (3 ml)
1/4 tsp. nutmeg (1 ml)
1 tsp. corn starch (5 ml)
1/2 c. maple syrup (125 ml)
1/2 c. all-purpose flour (125 ml)
3/4 c. rolled oats (190 ml)
1/2 c. brown sugar (125 ml)
1/2 c. butter (125 ml)
Directions:

Mix apples with cinnamon, nutmeg & corn starch.
Arrange apples in a greased 2-L baking dish.

Pour maple syrup over apples.
Combine flour, oats & brown sugar, cut in butter and mix well.
Sprinkle topping over apples.

Bake at 350º F (175º C) until apples are tender and topping is lightly browned, about 25 minutes.
Serve with ice cream or real whipped cream. Enjoy!

Serves 6.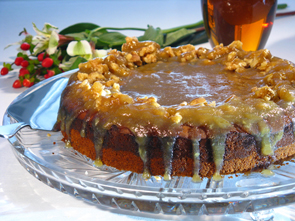 Maple New York Cheesecake

Crust:
1-1/2 c. graham cracker crumbs (375 ml)
4 tbsp. melted butter (60 ml)
2 tbsp. granulated maple sugar (30 ml)

Filling:
2-8oz blocks cream cheese, softened (2 - 225 g blocks)
1/2 c. maple syrup (125 ml)
2 eggs (2)
1/2 c. sour cream (125 ml)
1/8 c. all-purpose flour (30 ml)

Topping:
1/2 c. water (125 ml)
1-1/2 tbsp. corn starch (23 ml)
1 c. maple syrup (250 ml)
1/2 c. chopped walnuts (125 ml)
Directions:

Preheat oven to 350º F (175º C).
Grease a 9-inch spring-form pan.

In a medium bowl, mix graham cracker crumbs with melted butter & maple sugar.

Press into bottom of spring-form pan.
In a large bowl, mix cream cheese with maple syrup until smooth.
Add eggs one at a time, mixing just enough to incorporate.
Mix in sour cream & flour until smooth. Pour filling into prepared crust.
Bake in preheated oven for one hour.

Turn the oven off and let the cake cool in oven with the door closed for 2-3 hours to prevent the top from cracking.
Chill in refrigerator. Cut into portions.

Combine water & corn starch together, and incorporate maple syrup.

In a small saucepan, heat up mixture until it thickens.
Add walnuts. Pour on top of cooled cheesecake portions.

Serves 12-16.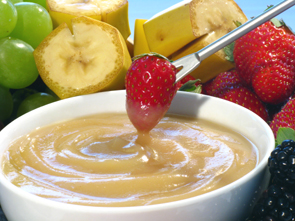 Maple Fondue

2 c. maple syrup (500ml)
2 tbsp. corn starch (30ml)
2 c. 18% cream (500ml)
Fresh fruit (strawberries, bananas, etc.) for dipping
Directions:

Heat maple syrup for 5-10 min. Mix corn starch with 2 tbsp. of cream.
Heat the rest of the cream until it comes to a boil. Add it to the maple syrup.
Add corn starch mixture.

Heat at low temperature, stirring constantly until it thickens.

Serve warm or cold.

Serves 6-8.